The 2021 MINI Cooper Countryman received impressive safety marks from the Insurance Institute for Highway Safety (IIHS). In fact, it received the highest Good rating in the following categories:
It also received an Advanced rating for front crash prevention (with standard equipment). With this kind of report from the IIHS, you can rest assured that the MINI Cooper Countryman will help protect you and your loved ones at all times.
Active Safety Features
With the MINI Cooper Countryman, you'll get a myriad of features that can help prevent a collision from ever occurring. One of them is Active Driving Assistant, a standard driver-assisting feature that includes the following systems:
Forward Collision Warning (FCW)
Automatic Emergency Braking (AEB)
If you start to get too close to a car or other object, FCW will send visual and audible alerts for you to take action. If, however, you can't hit the brakes in time, AEB will step in and do it for you. Together, these features help you avoid an impact and keep everyone on board safe.
This vehicle also comes standard with the Anti-lock Brake System with Corner Brake Control to ensure your brakes are up to the task.
Furthermore, this vehicle is standard with LED headlights. These crisp headlamps will provide ideal illumination when cruising along dark roads. Plus, this car features cornering lights so that the path is illuminated through every turn.
Passive Safety Features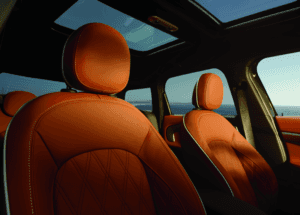 In the event that an accident does occur, you can rest assured that the 2021 MINI Cooper Countryman has you covered. After all, it comes with a host of impressive passive safety features.
For example, this vehicle comes standard with an 8-airbag system to fully blanket passengers in safety.
Additionally, this vehicle's build can help keep you safe, as it has an ultra-rigid body that can withstand powerful forces. Paired with the advanced crumple zones, they'll work together to direct crash energy and damage away from passengers.
After a collision, the MINI Cooper Countryman is also programmed to unlock the doors, activate interior and hazard lights, and shut down the fuel pump.