MINI Cooper Countryman Ground Clearance

---
The 2023 MINI Cooper Countryman is a subcompact SUV that's designed for adventures around Annapolis, Arnold, and Parole, Maryland. This is partly due to its ground clearance, which we'll discuss below.
See what kind of excursions are to be had with the MINI Cooper Countryman ground clearance. Then, be sure to contact MINI of Annapolis with questions or to view the model in person.
---
What's the Ground Clearance of the 2023 MINI Cooper Countryman?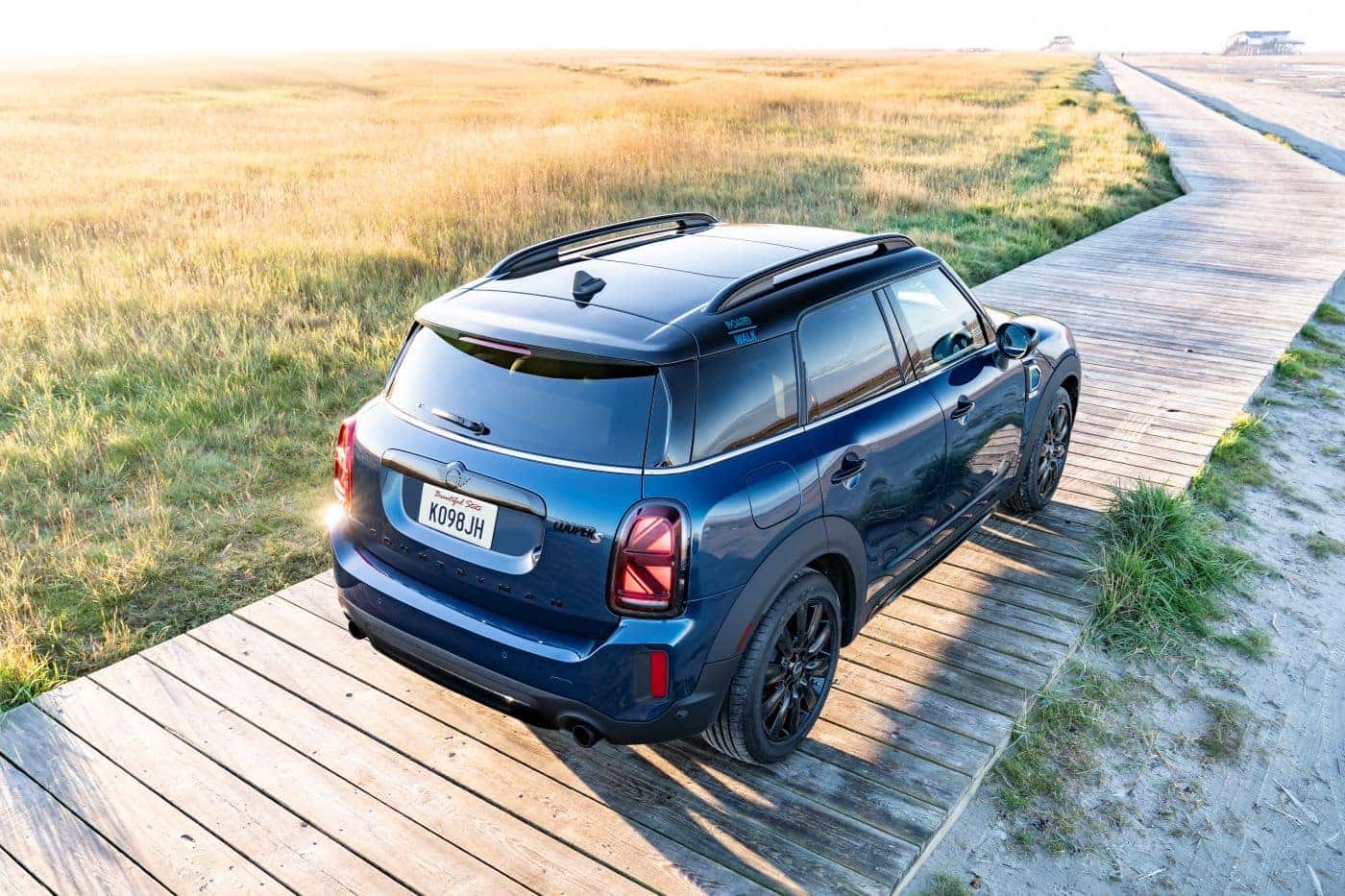 The 2023 MINI Cooper Countryman has a ground clearance of 6.5 inches. This is the case in all trim levels and whether you have the front-wheel drive (FWD) or all-wheel drive (AWD) version of the car.
The ground clearance makes it possible to navigate your way over bumpier terrain. The following dimensions then make it possible to travel through busy streets and parking lots:
Length: 169.7 inches
Width (including mirrors): 78.8 inches
Height: 61.3 inches
Wheelbase: 105.1 inches
No matter what environment you want to drive in, the MINI Cooper Countryman can more than handle it.
MINI Cooper Countryman Exterior Design
Another contributing factor to the impressive ground clearance of the 2023 MINI Cooper Countryman is its exterior design.
The MINI Cooper Countryman SUV features an optional piano black exterior trim, redesigned headlight & rear light union-jack design. This is also updated with a fresh new front grille and bumper design, and various wheel options.
The car itself has a muscular shape with LED headlights that can help you see better at night. Plus, you can get the MINI Cooper Countryman in a variety of colors. Whether you want a classic Midnight Black or a bold Chili Red, you'll find it with this model.
2023 MINI Cooper Countryman Performance Specs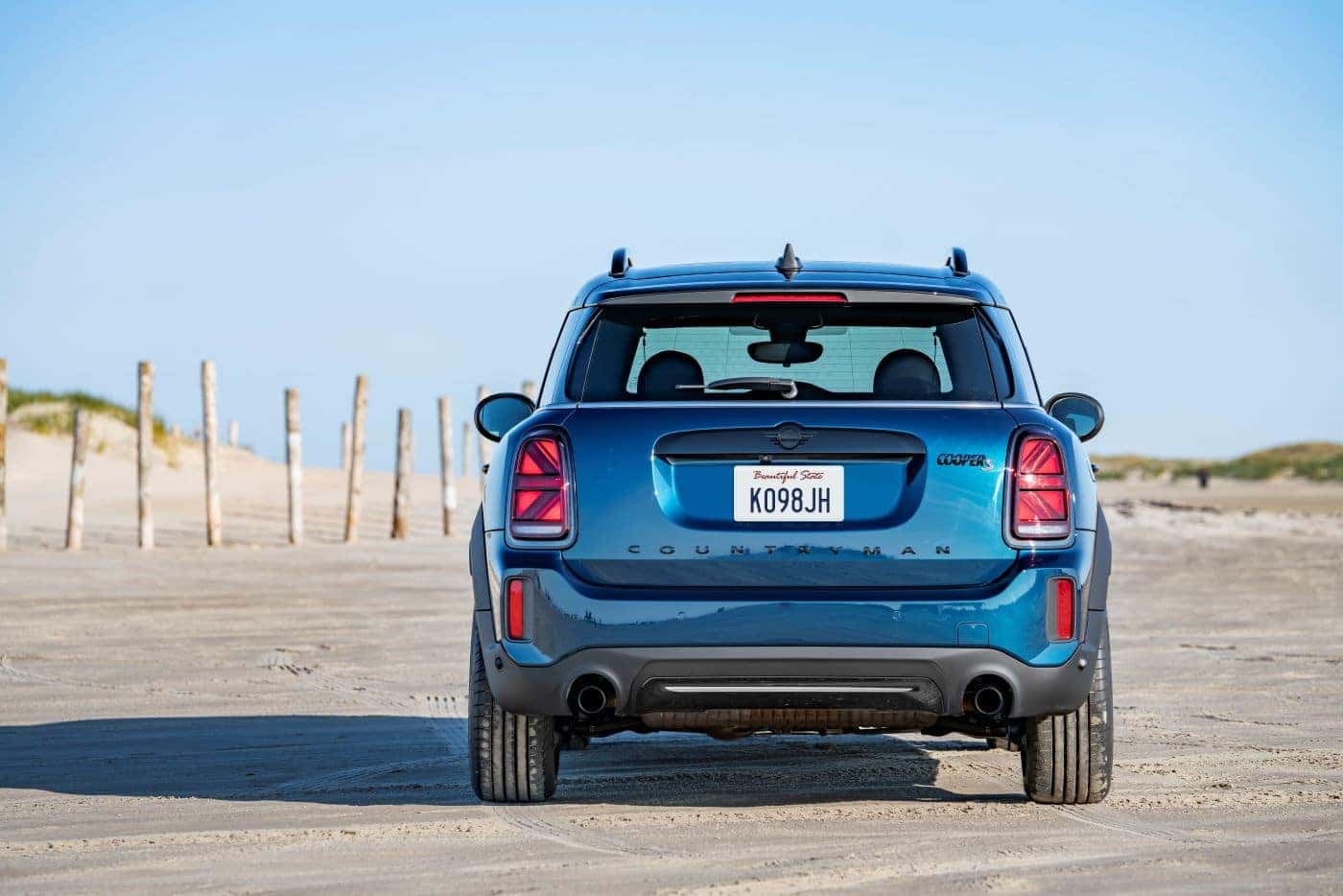 There are additional specs that contribute to the MINI Cooper Countryman performance, such as its engine options.
The SUV offers four motors that each have noteworthy degrees of power:
1.5L TwinPower Turbo 3-cylinder engine: 134 horsepower and 162 lb-ft of torque
2.0L TwinPower Turbo 4-cylinder engine: 189 horsepower and 206 lb-ft of torque
2.0L TwinPower Turbo Valvetronic 4-cylinder engine: 301 horsepower and 331 lb-ft of torque
1.5L TwinPower Turbo, 3-cylinder direct-injection engine (eDrive Electric Motor): 221 horsepower and 284 lb-ft of torque
An 8-speed Steptronic Sport automatic transmission is standard for smooth and seamless shifting in the city, on the highway, or around some country backroads. You can even customize your time on the road, thanks to various driving modes. Select from Sport, Green, or Mid settings for a ride that's as athletic or efficient as you want it to be.
As we mentioned before, the car is available in AWD. When equipped with the ALL4 system, the Countryman will provide the all-weather capability and traction needed for any ride. So, if you're heading out on the snow-covered streets or dusty country roads, the vehicle can stay on your intended path.
---
Test Out the MINI Cooper Countryman Ground Clearance for Yourself
Now that you know what the 2023 MINI Cooper Countryman ground clearance is, it's time to test it out for yourself. By taking this SUV out for a spin, you'll know if it'll work for your excursions on and off the beaten path.
Ready to try out the MINI Cooper Countryman near Annapolis, Arnold, and Parole, MD? Then, don't wait. Schedule a test drive at MINI of Annapolis today!
---
Shop MINI Countryman Inventory
Dealership Info

Mon - Sun

12:00 AM - 12:00 AM




Mon - Thu9:00 AM - 7:00 PM

Fri - Sat9:00 AM - 6:00 PM

SunClosed

Mon - Fri7:00 AM - 6:00 PM

Sat8:00 AM - 4:00 PM

SunClosed

Mon - Fri7:00 AM - 6:00 PM

Sat8:00 AM - 4:00 PM

SunClosed

Mon - Fri8:00 AM - 5:00 PM

Sat - SunClosed