2019 MINI Iconic Convertible Review

It's quite fun to drive a convertible. With the top down and wind blowing through your hair, you can have a nice time cruising around Annapolis, Highland Beach, and Hillsmere Shores.
One car to use for this kind of experience is the 2019 MINI Iconic Convertible. Plus, you get lots of power, style, and technologies inside this automobile.
We'll tell you all about it in this detailed 2019 MINI Iconic Convertible review from MINI of Annapolis. Discover what the car has to offer, then contact us to see it in person.
MINI Cooper Iconic Convertible Performance Specs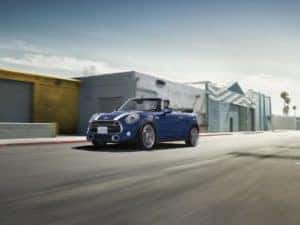 With the 2019 MINI Cooper Iconic Convertible, you get a spirited performance. The vehicle handles even the most winding roads with ease thanks to a 4-wheel independent suspension. With MacPherson struts in the front and a finely tuned, multi-link suspension in the back, you'll have world-renowned handling at your disposal.
This vehicle delivers a lot of power, too, through its two engine options:
1.5L 3-cylinder: 134 horsepower and 162 lb-ft of torque
2.0L 4-cylinder: 189 horsepower and 207 lb-ft of torque
With that kind of power and agility, you'll probably want to spend hours zipping around town, especially when you consider the kind of fuel economy you get with this automobile. With an EPA-estimated 32 combined MPG, you can spend a long time on the road before needing to stop and refuel.
Stylish & Comfortable Cabin
With just one look inside the Iconic Convertible, you'll spot a high-end cabin filled with all kinds of stylish features.
For example, there are lots of different upholstery options to choose from, such as:
Carbon Black Cross Punch Leather
Satellite Grey Lounge Leather
Malt Brown Chesterfield Leather
Plus, you can get a MINI Yours Sport Leather steering wheel, Chrome Line interior trim, and Black Checkered Dash surface. These are just some of the many ways you can have your convertible live up to its iconic name.
Furthermore, you'll have plenty of amenities to take advantage of inside this automobile. The top opens up in seconds when you want to enjoy the warm summer air. Then, in the winter, close everything up and use those heated front seats to stay nice and cozy.
Cutting-Edge Technologies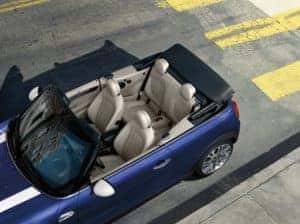 The technologies inside the MINI Convertible can help keep you connected and entertained during every excursion you take.
For instance, it comes with Apple CarPlay™ smartphone integration. Simply plug your phone into the vehicle's USB to have your apps appear on the 8.8-inch display screen. You can then send texts, listen to podcasts, and more without needing to mess with your phone while driving.
You can also get features like SiriusXM® Satellite Radio. Over 100 music, comedy, and sports stations are available to enjoy, with everything coming in crystal-clear through the available Harman/Kardon® Sound System.
Finally, you can take advantage of the MINI Rain Warner app. It'll check the forecast in your area for any potential rain. If the chance is high, you'll get a notification to close the convertible top up, so you can stay dry.
Test Drive the 2019 MINI Iconic Convertible Today
It's clear that the 2019 MINI Cooper Iconic Convertible offers tons of style and features. However, if you're still not sure if it's right for you, then we suggest taking this automobile for a spin.
In order to experience this vehicle's capabilities near Annapolis, Highland Beach, and Hillsmere Shores, schedule a test drive at MINI of Annapolis today!