Download the Leasing vs Buying a Car eBook Today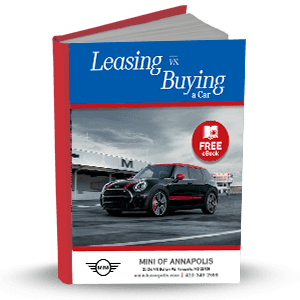 At MINI of Annapolis, we'll help you find a great, new vehicle for your trips around Annapolis, Highland Beach, or Hillsmere Shores. Then, we'll help you decide if leasing or buying a car is right for you.
We'll tell you everything you need to know about each option in this detailed Leasing vs. Buying a Car eBook. This guide will include helpful info, such as:
Auto loans and how they work
Defining leases and what the up-front costs are
Differences between buying and leasing
We'll also include a list of questions, so you can easily decide which route is best to take.
Not only will you get a great deal of information, but you'll also get a money-saving offer. This can be used at our dealership for your convenience.
To get your FREE copy of this eBook, fill out the form on this page. Click submit, and then it's yours to enjoy. So, don't wait. Download the Leasing vs. Buying a Car eBook today!